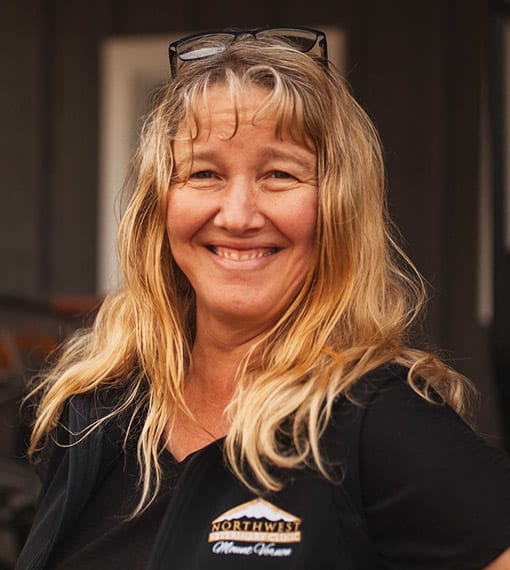 Dr. Blair
I started for Northwest Veterinary Clinic of Stanwood back in May of 2000. I worked at the Stanwood office for the first several years, took some time away when my daughter was born, then returned to pick up again but at the Advanced Care Animal Clinic in Smokey Point. I have been there now for the last 13 years. I have just recently taken on a new challenge of helping at Northwest Veterinary of Mt. Vernon.
I grew up on a dairy farm in Iowa so my love for all things furry started when I was really little. We were a small family farm so all hands were on deck to help with milking, feeding calves, cleaning free stalls, etc. From the age of 3, I started asking for animals, not dolls, and just couldn't wait to be "big enough" to feed the bottle calves. It wasn't long before I was hooked growing up with a Border Collie babysitter named Patches. Next to come, was a deep and abiding case of "horse crazy" that has still not gone away. It's an infection I have passed on to my kids!
I knew from a very young age that all I wanted to be when I grew up was to become a veterinarian. I watched our farm vet come to the rescue over and over – he was the hero that "saved the day" for everything from the downer cow, to the sick kitten, and the family dogs. I walked away from life's harsh lessons of those that could not be saved or helped, with a deep passion that one day I would go to vet school and change that. There had to be another way and more to learn, someday I was going to find more answers.
I was determined to make it into vet school and the more others tried to tell me it was too hard, the more I was not going to allow anyone to keep me from my dream. I went to school at Iowa State University and graduated from the College of Veterinary Medicine in 1997.
Since then I came to the Pacific Northwest in 1997 and have found so much to love. I had always said that someday I was going to the mountains, who knew I would find this stunning package that included the ocean too! I enjoy horseback riding, reading, and spending time with my family.
Looking back I realize how blessed I am to have found and followed my calling – I love this job with a fierce passion but have learned it's not just about the animals. I have found that I enjoy getting to know each family that comes with their loved furry. It's that history and back story and learning the details of how that animal becomes a part of the family that I have come to value.
I would say that my favorite thing about Northwest Veterinary Group is the fact that we have so many amazing people at our fingertips and so many reaching out to collaborate and find the answer for that patient. It truly is a team approach to patient care including a radiologist, a surgeon, and a cardiologist that work with us on a regular basis.